Members and Key Staff
Thomas H. Prol' Chairman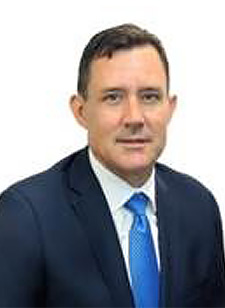 Thomas H. Prol is a member of the law firm Sills Cummis & Gross P.C. and is admitted to practice law in New Jersey' New York and before several federal courts. He is a member of the American Bar Association House of Delegates' a Life Fellow of the National Conference of Bar Presidents' a Fellow of the American Bar Foundation' and a Past President of the New Jersey State Bar Association ("NJSBA"). Mr. Prol served as NJSBA's first openly gay leader in 2016-2017 and he has championed the resurgent effort to ratify New Jersey native Alice Paul's Equal Rights Amendment as the 28th Amendment to the United States Constitution.
Holding Juris Doctorate and Master of Public Health degrees' in March 2020' the NJSBA called Mr. Prol back to service to oversee its Pandemic Task Force' leading the effort to fashion a strategic roadmap to address the impact of COVID-19 on the legal profession.
Throughout his legal career' Mr. Prol has been a vocal advocate on issues of equality' individual dignity' and access to justice. He co-drafted New Jersey's marriage equality legislation that was signed into law by Governor Phil Murphy on January 10' 2022. He was an advocate for' and successfully argued the defense of the New Jersey Criminal Justice Reform Act and the New Jersey Anti-Bullying Act. As a founding executive board member of Garden State Equality' New Jersey's largest LGBTQ education organization' Mr. Prol has championed civil rights and personal liberties for over two decades. He served as vice chair of the National LGBT Bar Association and director of the LGBT Bar Association of Greater New York in 1999-2000.
Mr. Prol has appeared and authored/co-authored numerous briefs before the New Jersey Supreme and Superior Courts' New Jersey Council on Local Mandates' the U.S. Third Circuit Court of Appeals' and the United States Supreme Court over the past two decades. He has represented over a dozen municipal entities as general or special counsel and is an expert in local government law and parliamentary procedure.
Mr. Prol is General Counsel to the Municipal Clerks' Association of New Jersey and special environmental counsel to the County of Sussex and its municipal utilities authority. He previously served as Associate General Counsel and Agency Chief Contracting Officer for New York City's Department of Consumer Affairs' and was an adjunct professor at Seton Hall University School of Law and New York Law School. Prior to practicing law' Mr. Prol was an environmental scientist and enforcement officer for the U.S. Environmental Protection Agency' and served two years as a volunteer in the U.S. Peace Corps in Nepal where he taught sanitation and health in Nepali villages in the eastern hill region near Mount Everest. Mr. Prol has also held externships with the U.S. Attorney's Office (EDNY)' the New York City Commission on Human Rights' CNN and The Carter Presidential Center.
Governor Phil Murphy appointed Mr. Prol as Chair of the New Jersey Election Law Enforcement Commission on June 14' 2023' and the Honorable Janine Allen' J.S.C.' administered his oath of office on June 19' 2023. He resides in Asbury Park.