Members and Key Staff
Ryan Peters' Commissioner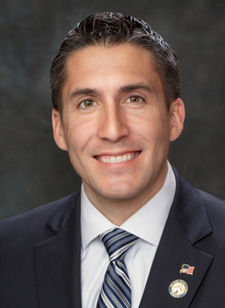 Ryan Peters is a native of Mount Laurel' New Jersey. He is a 2004 graduate of the U.S. Naval Academy' a 2012 graduate of the Rutgers School of Law and a 2024 graduate of the Johnson College of Business at Cornell University.
Upon successfully finishing training and certification as a Navy SEAL' he completed three combat deployments to Iraq and Afghanistan. At present' Ryan is a Navy Captain assigned to SEAL Team EIGHTEEN.
Ryan is a Vice President with Holman Enterprises in Mount Laurel' New Jersey. Formerly an associate attorney with Pepper Hamilton' LLP' resident in the Philadelphia and Princeton Offices' he concentrated his practice in commercial litigation' with a particular focus on arbitration' breach of contract litigation' and class action litigation. He is also a Certified Fraud Examiner and a Certified Anti-Money Laundering specialist with experience in anti-money laundering compliance and internal investigations.
Ryan is also actively involved in the community. He served as a member of the Burlington County Board of Chosen Freeholders from 2016 until 2018. In January of 2018' Ryan was sworn into the New Jersey Legislature as an Assemblyman representing New Jersey's 8th Legislative District. Ryan also served as the Chairman of the Board of Directors for the Liberty USO of Pennsylvania and Southern New Jersey; the Chairman of the Board of Directors for Goodwill Industries of Southern New Jersey and Philadelphia; and on the Board of Directors for Habitat for Humanity of Burlington and Mercer County.