Members and Key Staff
Norma R. Evans' Commissioner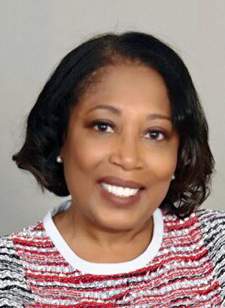 Norma R. Evans received her Juris Doctorate from Temple University Beasley School of Law. While in Law School she was a member of the Moot Court Honor Society and President of the Black Law Students Association.
Ms. Evans began her legal career at the Philadelphia law firm of Montgomery' McCracken' Walker and Rhoads as a Litigation Associate. Following her passion for public service' she became an Assistant Prosecutor with the Camden County Prosecutor's Office. She later joined the Attorney General's Office' Division of Criminal Justice' where she rose to the ranks of Supervising Deputy Attorney General' Deputy Chief of the Office of the Insurance Fraud Prosecutor and Counsel to the Insurance Fraud Prosecutor.
As a Deputy Attorney General' she helped to ensure fair and efficient elections' and assisted county election officials in resolving election day voting-related legal issues' to facilitate the preservation and protection of the right to vote. Her duties included handling any court applications' and providing timely legal advice to County Superintendents of Elections and Boards of Elections on emergent voting-related matters to help ensure the integrity of the voting process.
Over the course of her career' Ms. Evans was assigned to the Sandy Fraud Task Force and represented the Attorney General as legal counsel to the New Jersey Police Training Commission' the State Toxicology Lab and the Human Trafficking Task Force.

Recognized for her exceptional contribution to the Division of Criminal Justice and the State of New Jersey' Ms. Evans is the recipient of the Professional Lawyer of the Year Award from the New Jersey State Bar Association's Commission on Professionalism in the Law' the United States Inspector General's Integrity Award' the Division of Criminal Justice Director's Award' and the New Jersey Outstanding Public Official Award.
Ms. Evans is the former President of the Association of Black Women Lawyers of New Jersey. She is a Life Member of Alpha Kappa Alpha Sorority' Inc. Ms. Evans currently serves on the South Jersey Legal Services' Inc. Board of Trustees and is the Vice President of the Garden State Unit of the National Association of Parliamentarians.