Members and Key Staff
Jon-Henry Barr' Commissioner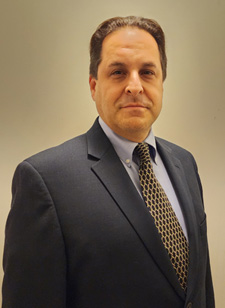 Jon-Henry "J.H." Barr is a lifelong resident of Union County' New Jersey. He graduated from Lehigh University with a bachelor's degree in government' and he earned his law degree from Seton Hall University School of Law. While in law school' he won a seat on the Clark Township Council at age 23' becoming one of the youngest elected officials in New Jersey at that time. After law school' he was a law clerk to Superior Court Judge Paul F. Chaiet in Monmouth County.
In 2001' Mr. Barr was appointed as Chief Municipal Prosecutor for Clark' a position he continues to hold today. He is a founding member of the New Jersey State Municipal Prosecutors Association' and served as its president for eight years. As a frequent speaker for continuing legal education seminars and for his leadership in the area of municipal court practice' he received the New Jersey State Bar Association's 2014 Municipal Court Practitioner of the Year award. That same year' due to his extensive experience prosecuting marijuana possession offenses' he joined the steering committee of New Jersey United for Marijuana Reform (NJUMR)' a partnership of public safety' medical' civil rights' faith' and social justice groups and individuals. NJUMR played a key role in the overwhelming approval of a November 2020 public referendum in which the citizens of New Jersey voted to legalize the possession of marijuana.
Mr. Barr's community involvement includes membership in the Clark Volunteer Emergency Squad' where he was a certified Emergency Medical Technician from 2003 to 2020' and served twice as the squad's president. For his volunteer service with the Clark squad' the Young Lawyer's Division of the New Jersey State Bar Association rewarded him with its "Service to the Community" trophy in 2005.
In 2017' Mr. Barr was appointed by the Union County Board of County Commissioners to the Board of Education of the Union County Vocational-Technical Schools' becoming the school board's vice-president two years later. He also earned a Certified Board Member recognition in 2023 from the New Jersey School Boards Association' where he currently sits on the Board of Directors as an Alternate Delegate for the vocational school boards of the state.
Mr. Barr is admitted to practice law in New Jersey' the District of Columbia' the U.S. Court of Appeals for the Third Circuit' and the United States Supreme Court. He has maintained a private law practice as the managing member of the law firm of Barr & Gulyas' L.L.C. in Clark since 1998. He is also a past president of the Union County Bar Association' which honored him in 2022 with its annual "Pro Bono Attorney of the Year" award.