Members and Key Staff
Stephen M. Holden, Commissioner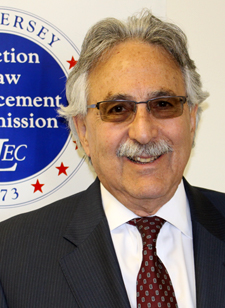 The state Senate on March 13, 2017 unanimously confirmed the nomination of Stephen Michael Holden of Merchantville to the New Jersey Election Law Enforcement Commission (ELEC).
Holden, a Democratic attorney, was nominated December 12, 2016 by Governor Chris Christie.
Holden is Deputy General Counsel of the Delaware River Port Authority. He retired as a Superior Court judge upon reaching mandatory retirement age of 70 in 2013 though he later performed temporary service as a recall judge.
Between 1987 and 2003, during a period when he was a solo practitioner, he served as Counsel to the state Senate as well as Senate Parliamentarian.
During an earlier career as an educator, he was a teacher in the Philadelphia school system, an assistant professor at Glassboro State College (now Rowan University), and dean and assistant professor at Bryn Mawr College.
Holden earned his law degree at Rutgers University Night School of Law. He obtained Ph.D and M.S.S. degrees at Bryn Mawr College, and a B.S. degree with honors at Temple University.
He sits on the Audit, Ethics and Compliance committee of the Board of Directors of Cooper Health System. He also sits on the board of Bryn Mawr College Graduate School of Social Work and Social Research.
Holden is married with two daughters- one a public- school arts teacher, the other a nurse.