Members and Key Staff
Marguerite T. Simon, Commissioner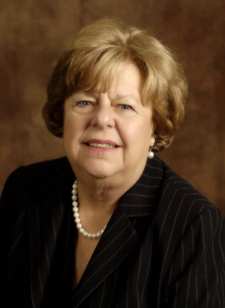 Marguerite T. Simon became the 32nd person appointed to the New Jersey Election Law Enforcement Commission since its creation in 1973 when the State Senate on June 29, 2017 unanimously approved her nomination.
She replaces Lawrence Weiss, who died while serving on the commission in 2011. Simon is a Democratic attorney who was nominated February 27, 2017 by Governor Chris Christie.
Simon serves as counsel to the firm of Javerbaum Wurgaft Hicks Kahn Wikstrom & Sinins PC of Springfield and Englewood Cliffs. Her practice is primarily concentrated in alternate dispute resolution. She serves as a mediator and arbitrator in private party and court appointed matters.
She also served as a state Superior Court Judge in Hackensack from 1984 until her retirement in 2004 when she was Presiding Judge of General Equity.
She has taught classes and seminars at the New Jersey Judicial College, Institute for Continuing Legal Education, and Bergen Community College.
Among her awards are Super Lawyer, New Jersey, Alternative Dispute Resolution, 2010 to present; and Professional Lawyer of the Year, New Jersey Bar State Bar Association and Bergen County Bar Association, both 2006.
Simon obtained her law degree from the University of Virginia School of Law in 1961. She received her undergraduate degree from Barnard College in 1958.
Her professional affiliations include: Bergen County Bar Association, New Jersey State Bar Association and Women Lawyers in Bergen County.
She is married to Donald Howard. Together they have four children and ten grandchildren. She lives in Edgewater and Cape May.