Members and Key Staff
Eric H. Jaso, Chairman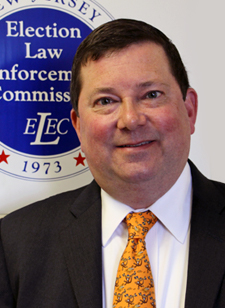 The state Senate on March 13, 2017 unanimously confirmed the nomination of Eric H. Jaso of Morristown to the New Jersey Election Law Enforcement Commission (ELEC).
Jaso, a Republican attorney, was nominated on September 8, 2016 by Governor Chris Christie. On July 28, 2017, the Governor named him Chairman. He is the tenth person to serve as chairman.
Jaso is a partner at the law firm of Spiro Harrison in Short Hills. His practice focuses on complex litigation matters, including civil and criminal cases, primarily in the Federal courts.
From 2003 to 2008, Jaso served as an Assistant U.S. Attorney in the U.S. Attorney's Office in New Jersey. Prior to that, he served as counselor to the Assistant Attorney General of the Criminal Division at the U.S. Department of Justice in Washington, D.C.
Previous government appointments included serving as Deputy General Counsel at the U.S. Department of Education, working as Deputy Special Counsel to the New Jersey Senate Judiciary Committee investigating racial profiling, and serving as Associate Independent Counsel during the "Whitewater" investigation of former President Bill Clinton.
Jaso also serves as a public member of the New Jersey Urban Enterprise Zone Authority.
In 2011, he was chosen by Republicans to serve on the commission that redrew the boundaries of New Jersey's U.S. House Districts.
Jaso has taught appellate advocacy as an Adjunct Professor at Seton Hall Law School.
He earned his law degree at the University of Chicago. He received his bachelor's degree in Government with honors from Harvard.
His professional memberships include: Hispanic Bar Association of New Jersey; National Hispanic Bar Association; Federalist Society; and Association of the Federal Bar of the District of New Jersey.
Jaso lives with his wife and son in Morristown, New Jersey.